Since becoming more actively interested in male fashion a few years ago, it seems like I've gone through product phases.  One of the first things I did was to replace all of my pants – most of which were slim, but bootcut, with slim straight or tapered fits.  From 2011 until March of this year, I really only wore one pair of jeans – my UB101s (which have faded nicely, by the way).  Then I replaced t-shirts, then button up dress shirts, then button-down shirts.
Of course I replaced shoes and have been adding onto that collection throughout most of the past few years, and this is probably the only area I haven't really slowed down in.  But lately, I've been back into the raw denim thing.  I picked up a pair of Pure Blue Japan xx-005's in March, and I have been really taken by the detail and texture.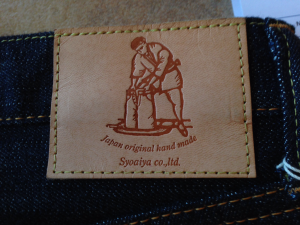 It's a 14 oz denim (UB101's are 14.5), which is mid-weight, and features PBJ's famous slubby denim (this is responsible for the texture).  Unfortunately, PBJ doesn't really have any skinny fits, but they do have some pretty slim straight and tapered fits, so I picked up the former for a bit of a change (UB101s are slim with a slight taper).
All of the research that went into the purchase of my PBJ's has made me aware of other styles and kinds of denim that I was only vaguely familiar with before, and now I'm pretty interested in picking up a lightweight, 10 oz pair of Momotaro jeans for the summer.  I mostly wear shorts on weekends when it's hot, but some days I don't, and I wear jeans to work most of the time.  As with shoes, some people suggest a jean rotation, so I may do that.  I don't think this is as necessary as it is with shoes since jeans don't really need to dry out as much, but I can appreciate the idea of a rotation nonetheless.  My UB101s are still great for casual wear, but they're a little too faded to wear to work anymore.
If anyone that reads this is interested in raw denim, I would love to talk to you about it if you have questions.