I had a pretty awesome experience Sunday night as I watched the New Orleans Saints beat the Minnesota Vikings from some pretty good seats right in the Superdome.
However, that does not mean I am okay with this "Who dat?" thing. This is why it has to go:
1) It sounds extremely uneducated. Do we, as members of a state that already gets made fun of for being uneducated, really want to further the propagation of that stereotype?
2) "But it's part of our culture!"
Exactly what part of our cultural heritage, pray tell, does this awful phrase pay homage to? Perhaps our rich French heritage? I'm sure when they were leaving Acadia during Le Grand Dérangement, all they could say was "Who dat?"
Seriously, it's a stupid phrase someone made up. You can't try to glorify it by attaching some sort of false cultural meaning. (And if you're going to try to argue with me that butchering the English language is part of our heritage, then I kindly invite you to move somewhere else and lower that state's average IQ instead of ours).
3) "But it boosts team morale/intimdates the other team!"
I'm sorry, can we not accompish that with a phrase that sounds a little more educated? Personally, I like the "Here we come to get you" chant that they do at every Saints kickoff. In the dome, that was far more intimidating than people shouting "Who dat?"
4) It is ridiculously easy to turn around.
"who dat say dey gon' beat dem Saints?!"
Uh, The Dallas Cowboys? The Tampa Bay Buccaneers? The Carolina Panthers?
Please feel free to throw arguments at me so that I may debunk them. :)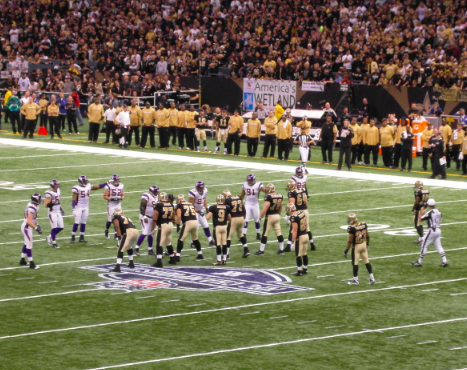 -Philip