Sometime back in late March/early April of this year, I randomly decided I wanted to go to grad school, so I scheduled an appointment to take the GRE, studied 45 minutes for it, applied for the ISDS masters program, and now I'm back in school. I thought I was done tagging posts with the "college" tag, but I guess I have another two and a half years of that (if my poor blog lasts that long).
Anyway, I haven't updated in a while (surprise, surprise), so it's catch up time. Back in July, a good bit of my family flew to North Carolina to spend a week at my brother's cabin. It's pretty awesome up there (except for the spotty cell phone coverage :P).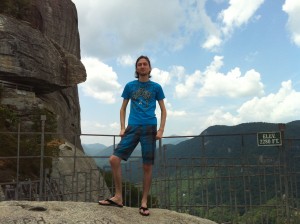 That's me on Chimney Rock. The view was awesome. :)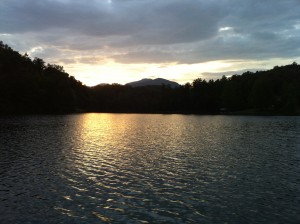 That's the sunset over the lake my brother's cabin is on. Yeah, it was really pretty.
I got to fly in an airplane, ride on crazy curvy mountain roads, swim in a mountain lake, and go white water rafting; all things I've never done before. It was pretty awesome. If I ever get to go again, I want to take my car so I can drive on those roads. :P
I've been writing a good bit lately (for fun, not for school/work). I'm just shy of 40,000 words on "Business As Usual," which I'm trying to get to novel status (50,000) during editing. Also, I decided I don't like that title. :
My web hosting expires in about 27 days, and I don't think I'm going to renew it. My friend James offered to host my site for me, and since I don't really use it as much as I used to, I may just take him up on the offer and save myself some money.
I recently posted this on Facebook and on reddit (where I got my highest upvote count ever), so I'm going to put it here too so anyone that still reads this can watch it and get all nostalgic all over it with me.
What would one of my updates be without random embedded YouTube videos of music I've been listening to? In case you haven't realized it yet, I like electro-*anything*, and these videos are proof.
Electro-post hardcore:

Electro-pop:

-Philip