I saw Breathe Carolina at the Varsity on Friday.  It was sort of a surprise, as I didn't find out about the show until Monday, and I bought a ticket as soon as I realized I wasn't misreading the date and location.
First and foremost, Breathe Carolina kicked ass.  Those guys put on a hell of a show, and one of them ran into the audience and started dancing with a really drunk dude right in front of me.  I was about 5 feet from the stage, so it was pretty neat.  They played Skrillex and Knife Party songs in between their own songs (just for kicks, I guess), which was pretty freaking awesome.  Panic! At the Disco is still the best show I've seen in a long time, but this one came pretty close.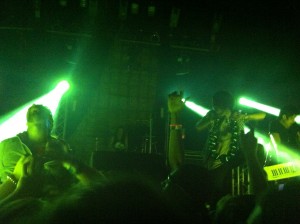 That said, The Varsity is also a great venue.  I could hear the bands well, there were no stupid body searches, no dumb camera rules, and it was an 18+ show so no stupid screaming 14 year old girls.
I purposely went to the show late so I wouldn't have to stand for hours and hours, because there were 4 opening acts.  I actually missed one of the ones I heard of and kind of wanted to see (Romance on a Rocketship), but I'm not really too bummed about it.  I caught the end of Matt Toka, and then came Ashland High, and that's where my story takes pause.
Ashland High is the name of Trace Cyrus' current music project.  You may recognize the name "Trace Cyrus" since both his dad (Billy Ray Cyrus) and his sister (Miley Cyrus) are famous, or perhaps you know him as the singer of Metro Station before they broke up (remember the song "Shake It?").
I saw Metro Station during Fall Out Boy's "Believers Never Die" tour in 2009.  Metro Station was okay, but it was my first experience with Trace Cyrus, and he was just really weird.  It was kind of obvious that he thought he was hot shit.
Anyway, so Trace Cyrus made this new music project thing.  He wrote the songs, and he sings the songs, but that's it.  Now, I'm not one to hate on bands very often.  Even with the most hated band in the universe (Nickelback), I can still find something nice to say about them (I like their song "Saving Me," and "Rock Star" is just freaking catchy and at least a little hilarious).
So know when I say this how much weight it holds – Ashland High is terrible.  Trace Cyrus cannot sing, his lyrics are shallow and meaningless, and he's just fake and annoying.  The best thing he played on Friday was the electronic part of some song that he said he got his producers to make because he wanted some "dubstep" in one of his songs.
He put his album up for free on his website.  I went and downloaded it just to see if he sounds as awful on the album as he does in real life.
Yep, he does.  Immediately deleted it.
Trace Cyrus, please stop making music.
Quite a bit of a tangent there, but anyway…The Ready Set played next.  They were pretty good.  I only knew one song, but anything was better than listening to Trace Cyrus sing at that point.  I actually only got one decent video that night, and it was of The Ready Set.
A good night all in all.  Mad respect for Breathe Carolina for putting on a great show to such a small crowd.  Not sure why they didn't go to the House of Blues for an all ages show and an almost assuredly larger crowd, but I'm glad they didn't.