Well, iPhone 5 is pretty nice.  It's noticeably lighter than my iPhone 4, and it's nice to have a fully functioning home button again.  The front-facing camera is pretty spiffy, and I feel like I can probably take decent pictures with it now that are a lot less grainy.
The biggest issue so far is the new dock connector (Lightning) – which, don't get me wrong, I really like it, but I am used to having four dock cables plus the built in one in my Nissan.  Now I have only one and can't use the iPhone 5 in my Nissan to play music.  I guess somewhat fortunately, the Alpine head unit in there is old and starting to have issues anyway (sometimes when I touch it or hit a bump, it turns off and turns back on), so I just went ahead and bought a new one rather than shelling out $30 for the dock/Lightning adapter, and now the new head unit should charge my phone (old one didn't) and also do Bluetooth calling, which means I will actually be able to make phone calls in that car now.  Driving a manual is pretty prohibitive of holding a phone to your ear, which I guess is a good thing in its own way, but sometimes you have to make calls.  I guess I'll just need to buy another Lightning cable, and I'll be all set.
And LTE is pretty awesome.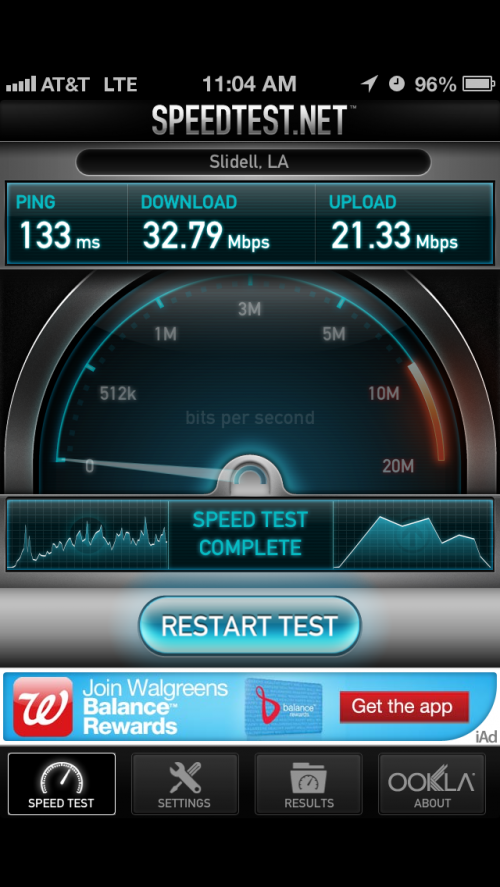 Of course, the speed depends on where you are, and it's much slower/sometimes not available at my house, but the speed above is pretty awesome considering my home Internet is about 13 Mbps.
I also bought an Intel 330 SSD for Melfina and two 4 GB sticks of RAM.  It's been a really long time since I've bought computer parts, especially for legitimate upgrades to my main computer.  I'm really happy with Melfina, but the 80 GB capacity on my Intel X-25M G2 is not cutting it anymore, and RAM is just so cheap these days ($36 total) that there's really no point in not making that upgrade, especially now that I'll have the disk space for the larger swap file.
Also…I started playing World of Warcraft.  I managed to avoid that game for like eight years, but Sam plays it.  It's something to do together, and those things come in short supply with the distance between us.  Playing an MMO brings back memories of Ragnarok, but I have been having those recently anyway due to the best new anime of the last season, Sword Art Online, which I highly recommend.
Oh yeah, and I got a new job that I start this week.  :D